Traeger recipe
Visiting Treager's official site will display some categories. Under the recipe category, you'll be presented with a pop-down menu, where several sub-categories exist. For instance, there is a popular category divided into 10 other parts to let you select your dearest dish. You can choose any easy Traeger recipe if you are a beginner.
Multiple dishes can be cooked on your Traeger pellet grills, and you'll probably know that your Traeger grill is worth a lot. Well, whatever you choose, it's up to you what you cook. I'll be picking out my favorite dish to discuss the preparation method.
Come on! We'll praise the Lamb Shank.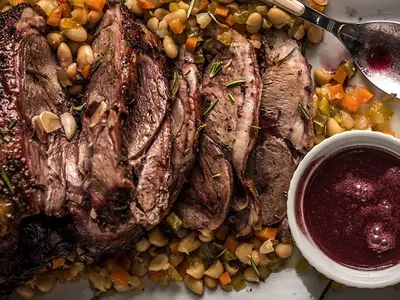 Many of you might be aware of what Lamb shank is, while some might be wondering what this shank is. Lamb shank is one of the tastiest dishes that provide you with such proteins that'll help you live a stronger and healthy life. By the way, Lamb shank is the part of meat extracted from the lower parts of the back legs. Don't forget braising Lamb shank is part of the best Traeger recipes.
Note down that this dish will be withdrawing around 4 and a half hours of your routine. It'll take about 15 minutes to get ready with the ingredients, and an additional 4 hours will be consumed cooking it. The best pellets recommended for it are the Mesquite pellets. All this is mentioned in Traeger recipes and Traeger cookbooks.
❖ Ingredients:
For 4 persons:
4 entire Lamb shanks.
Traeger Prime Rib Rub.
Beef broth.
❖ Instructions:
Firstly, what you need to do is cover The shanks with Traeger prime rib rub.
Secondly, set up the Traeger smoker to 500F and let it heat, while the lid is kept tightly closed for a quarter of an hour.
Thirdly, place The shanks on the grill and let them cook for 20 minutes until the surface turns brown.
Fourthly, place the shanks in the dutch oven and flow beef broth and herbs. Cover it up tightly and again put it on the grill grate to let it cook at 325F.
Next, braise the shanks for around 3-4 hours until the internal temperature is up to 180F. Note: be careful while braising. Don't touch the bone with the probe, or else your reading will be inaccurate.
Finally, displace your shank by lifting it from the grill and then place it on your plates.
All purpose BBQ Recipes are going to make your day smoky, Hell Fun Day.